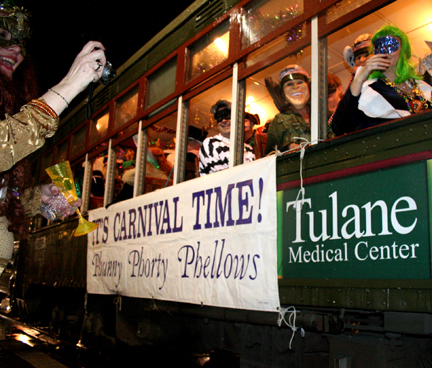 Taking no break from the eating and drinking of the holiday season, we spent Twelfth Night last week feasting with friends. Twelfth Night in New Orleans marks the end of the Christmas and the start of Mardi Gras, and gives us all another reason to have a party!
An interesting group of people made for great conversations with topics ranging from political discussions, recent films, travel, wine, art and ducks on the bayou (a discussion that ended promptly as views tended to swim on opposite banks...) Everyone contributed something for the meal, from delicious fresh baked breads, my favorite
garlic shrimp
,
Kerry's zucchini ribbon salad
, mushroom and truffle risotto, a decadent double dose of pistachio desserts with both cake and gelato, and the best beef tenderloin I've ever eaten doused with a delicious red wine sauce. Made by Rachel and Marline with Moises Dundee Hills, the sauce was absolutely fabulous, and made even more special by having James Moises and his wines at the table. We fed both stomachs and souls that night and I truly hope there are more such evenings together in our future!
Here is their recipe for beef tenderloin and the cleverly coined "Moises Sauce".
Beef Tenderloin with Moises Sauce
Ingredients
4 T butter
1 T flour
1 cup finely chopped onion
1 cup finely chopped carrot
1 cup finely chopped celery
2 T tomato paste
1 1/4 cup Moises Dundee Hills Pinot Noir
1 1/4 cup chicken broth
1 1/4 cup beef broth
1 3.5 lb beef tenderloin
2 T cracked black pepper
Directions
Mix 2 T butter and flour in small bowl. Melt 1 T butter in heavy large skillet over low heat. Add onion, carrot and celery, sauté until vegetables are tender, about 10 minutes.
Add tomato paste; stir until vegetables are coated.
Add wine; boil until liquid is reduced by half, about 3 minutes.
Add both broths, boil until liquid is reduced to 1 1/4 cups, about 5 minutes.
Strain liquid, discarding solids. Return liquid to skillet.
Add butter/flour mixture to sauce, whisk over medium heat until sauce thickens, about 1 minute. Season to taste with pepper. (Sauce can be prepared 1 day ahead.)
Take meat out of fridge, one hour before cooking. Sprinkle beef with cracked pepper and salt.
Preheat oven to 400°F.
Put a small bit of vegetable oil in heavy large skillet over high heat. Add beef and brown each side 4 minutes on top of stove.
Roast about 15-20 minutes (or until meat thermometer says 160 if thick – if thinner maybe less 140). Remove from oven and let rest 10 minutes. Serves 4-6.
Enjoy!