Taking place in Verona for five days, it is Italy's most important wine fair and presents an overview of the most prestigious wine-growing and wine-making traditions as well as everything else involved in the world of wine: technical tastings, food & wine pairings and innovative cuisine.
This year's event is Vinitaly's 43rd edition, and has been unapologetically subtitled "Il Mondo che Amiamo" or "The World We Love". And as a true lover of all things Italian, Swirl is celebrating the start of Vinitaly in Verona with a seated tasting on Thursday that will cover the map of Italy with wine and cheeses from 7 different regions represented in this educational and delicious event! Italian Wine Specialist Antonio Molesini and Richard Sutton of St. James Cheese will be joining us to help define the regional significance of each of each of these truly distinct Italian products.
Here is a little background information on a few of the things that we will be highlighting on the wonderful evening.
Burrata Cheese
Burrata is one of the most sought after cheeses in the world today and restaurants and consumers have gone burrata crazy! From the Puglia region of Italy, the heel of the boot, came this incredibly deliciously creamy cheese created in the 1920s in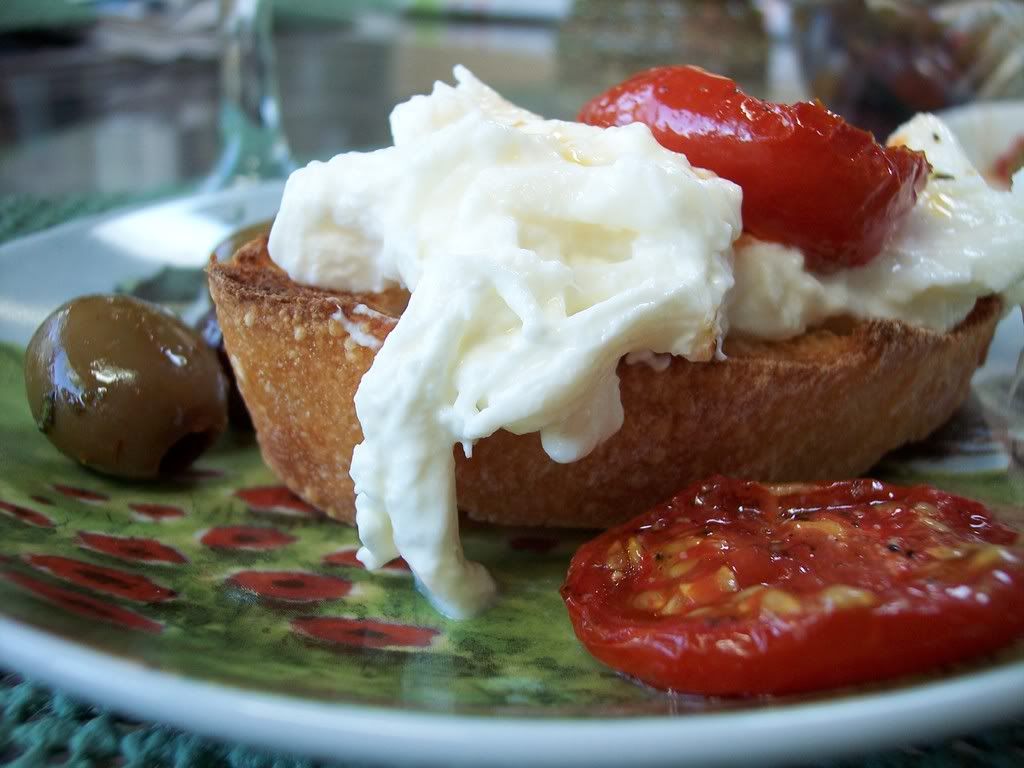 the town of Andria, about two-thirds of the way up from the heel to the spur. The Bianchini family made it on their farm. It was a local product, and remained the delight of the townspeople only, for thirty years. It became known in other parts of Italy only as recently as the '60s and '70s and burrata probably didn't reach American shores until the 1990s, and it certainly didn't become trendy on restaurant menus until a few years ago.
For the uninitiated, the cheese looks, at first glance, like a ball of fresh mozzarella with a tiny topknot. But cut into it and the center, a tangy core of cream and stracciatella ("little rags") of mozzarella curds, oozes onto the plate. Made in the Apuglia and flown to the U.S., it can be hard to find, and has a short shelf life. Sweet, creamy, lusciously and delicately textured it is irresistible. And if you do find one, grab it immediately, find some crusty bread and tomatoes, and head back for lunch, dinner or a snack. It is to die for, really.
Prosecco
Prosecco has been growing rapidly in popularity and this distinctly Italian product has become one of the most appreciated international sparkling wines. If you drive north from Venice you'll discover Valdobbiadene
and Conegliano, the most wonderful yet little-known wine growing regions in the world. This is the home of prosecco, a grape variety native to Veneto. Prosecco is used to make white wines in different styles, sparkling or still. Mixed with peach nectar, it enlivens the classic Venetian cocktail, called a Bellini. Prosecco is an excellent match with a diversity of food, including cheese, risotto and fresh fish and it is even the basis for much of the grappa produced in the region. As the Venetians say: "No matter where you are in the Veneto, everything goes well with prosecco."
Aneri is a new Prosecco to Swirl that we have brought in exclusively for this tasting. A Veronese label known for quality, it is a leading name in the world of winemaking and is acknowledged internationally: the Aneri prosecco has in fact been part of exclusive toasts around the world, from the pre-dinner drinks offered to the heads of state at the G8 summit in 2001, to the signing of the European Constitution in 2004, from the dinners with Putin and the White House and even the toast to Barack Obama for his historic victory in the recent presidential elections. A delightful and elegant wine with floral notes and hints of almonds, it is perfect for any occasion!
Robila Cheese
While the lovingly tended vine-clad hillsides of the Langhe in Piedmont are world famous for their Barolo and Barbaresco wines, they are also home to the firm, creamy an
d wonderfully fragrant Robiola cheese. It varies considerably from one producer to the next, depending on family recipe, local custom and available milk. Made throughout the Piedmont and Lombardy regions, robiola may include goat's, sheep's or cow's milk, or any combination thereof. Even the one DOP (denominazione di origine protetta, or name-protected) robiola -- Robiola di Roccaverano -- allows for cow's milk, although traditionalists use only goat's and sheep's milk.
Under the thin rind is a smooth, supple, cream-colored paste with a lushness that can be attributed to the high-fat sheep's milk. The flavors are simple, direct and delicate with a faint mushroom aroma and deliciously silky texture. When eaten at the proper time of ripeness it literally melts in your mouth and is absolutely divine!
Nero D'Avola
My infatuation with Sicily has been growing daily as I research wineries for our upcoming wine and culinary tour of this beautiful island. A label that we have carried on a consistent basis is Principi Butera and it has developed many fans for its affordable red and white wines from indigenous varietals. In the 2009 Gambero Rosso Italian wine guide, 17 Sicilian wineries were given the highest award of Tre Bicchieri and the 2005 Principi Butera Deliella was one of them.
Locat
ed in Southern Sicily midway between the temples of Agrigento and the Baroque towns of Modica and Ragusa, Butera produces great wines that demonstrate the full expression of the Sicilian terroir. Deliella is 100% Nero D'Avola showing a lot of depth with ripe currants and a hint of vanilla on the nose and palate. Full-bodied, with velvety tannins and a dense, balanced and lingering finish. This is a special wine that I am really looking forward to sharing with everyone on Thursday! Delicious.
So if all of this has your mouth watering (as it does mine!), reserve a spot for our Vinitaly tasting on Thursday as we taste 7 new wines and cheeses with Antonio and Richard. This is amazing stuff, I promise!
And for a little more temptation here's a recipe with burrata cheese as the main event! Serve it with a cold glass of Aneri prosecco and you will make a major impression. See posting below and check out another blogger who loves Italian cooking
prouditaliancook
for great recipes and photos such as the burrata one above!