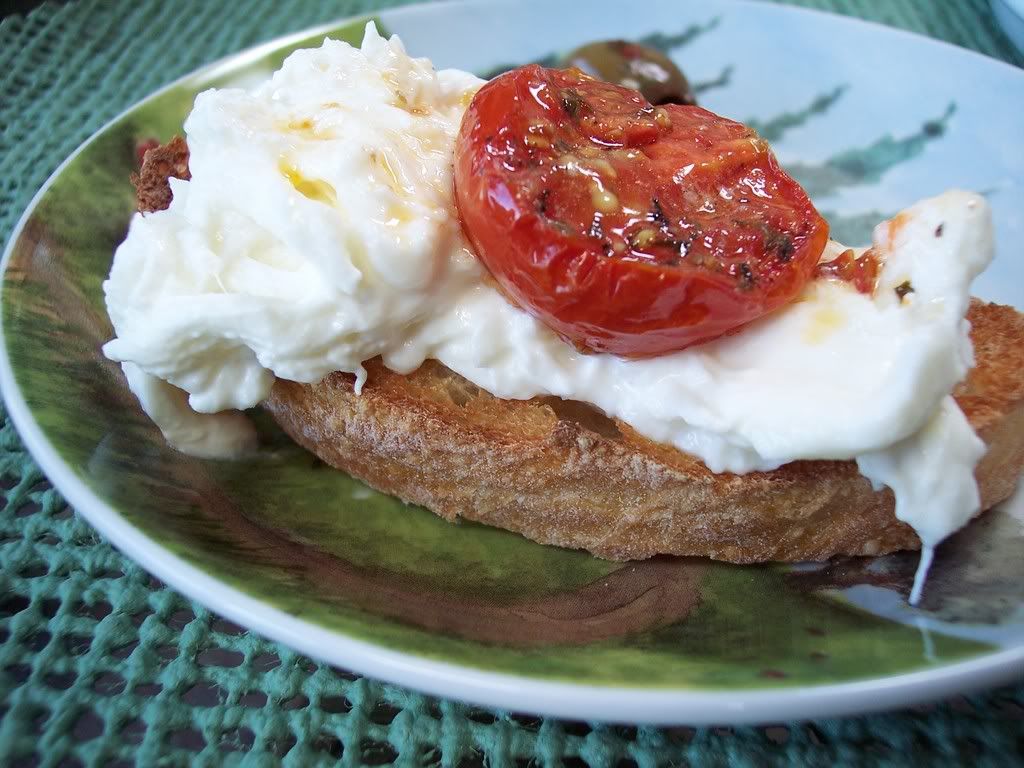 Ingredients
3 large heirloom tomatoes, halved
Sea salt, preferably gray salt, and freshly ground black pepper
4 tablespoons extra-virgin olive oil
1 clove garlic minced
6 slices lightly toasted ciabatta bread (available at Swirl or La Boulangerie)
Burrata Cheese
Fresh basil ribbons
Aged Balsamic vinegar (optional)
Directions
Preheat the broiler. Arrange the tomato halves cut side up and close together on a baking sheet. Season with salt and pepper. In a small bowl, combine the olive oil and the garlic. Spoon a little over each tomato half, stirring the mixture as you go.
Broil until the tomatoes are soft and shriveled but still retain some moisture, 15 to 20 minutes. Timing will depend on how large, meaty and juicy the tomatoes are. Let cool completely.
Take your toasted ciabatta bread and put a scoop of burrata cheese on it. Top it with one of the tomato halves and drizzle with a little more high quality olive oil and a touch of aged balsamic vinegar. Garnish with a few ribbons of fresh basil.
Close your eyes and enjoy a taste of heaven!
Serves 6
Photo Courtesy of
prouditaliancook.blogspot.
com