Kiona Vineyard, Red Mountain AVA
When Scott Howett of Mystic Vines came to me about doing a Washington State wine tasting I was intrigued. While the area has never been a focus of mine, I've always liked the wines, finding the reds without the sledgehammer jamminess that many new world wines can have. Big, bold but with nice structure awarded by the very unique micro climate of western Washington.
I asked Scott to send me his portfolio so I could begin doing my research and narrowing down our selections to 12 wines. I was familiar with many of the wineries, having done events in the past with Scott (our partners in crime for our popular rose and charcuterie yearly event and many other great tastings) . But as I dug deeper into the wines and the people behind them, I have to admit I was blown away by the absolute gems of artisan wineries Mystic Vine has curated. And I realized how lucky we are to be able to introduce you to some of the most creative, highly regarded winemakers in Washington through our relationship with Scott and Mystic Vine.
Ciel du Cheval Vineyard, Red Mountain AVA
The narrowing down part was the hardest, selecting wines at a variety of price points, styles and grape varieties to give you some insight into what is going on in Washington. Below are my selections with a little info on each winery as well. I used the word "impressive" when talking about these wines before I did my homework, but my new descriptor is "jaw dropping" and I even changed the name of the event!
Don't even care to read through them and just want to sign up? But be aware these wines are not for the faint of heart - we're featuring 2 whites, a rose' and 10 big reds. The walkabout style tasting is $25 and you can reserve your spots here:
Jaw Dropping Washington Wines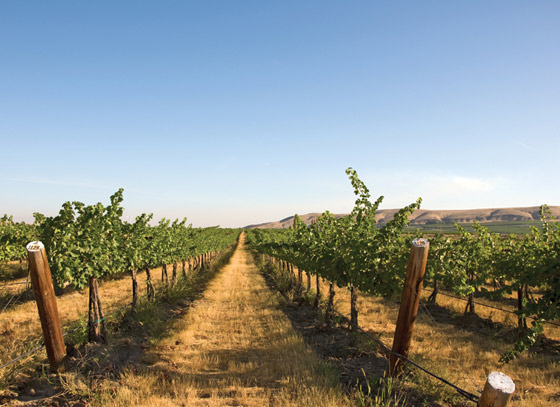 Klipsun Vineyard, Red Mountain AVA
The Lineup!
All attendees of the event will be give special pricing on the wines purchased that evening only.
*Wines with limited availability!
Mark Ryan Winery
A Wine & Spirits top 100 winery in the world 3 years in a row is a pretty impressive accomplishment for Mark Ryan McNeilly who began making wine in 1999 in a friends garage. Now considered one of the "godfathers" of cult wine making in Washington, the innovative McNeilly has a reputation for small production, highly rated reds. With grapes sourced from some of the finest vineyards in the state such as Ciel du Cheval, Grand Reve, Kiona, and Klipsun, his wines are considered classic, structured and age-worthy, yet trust me, they don't skimp on fruit or texture!
Mark Ryan McNeilly
*2012 Mark Ryan Winery Dead Horse Ciel du Cheval Vineyard, WA 94-96pts.
Much more rich and voluptuous, the Cabernet Sauvignon-dominated 2012 Cabernet Sauvignon Dead Horse Ciel du Cheval Vineyard boasts knockout aromas and flavors of blueberries, blackberries, licorice, spring flowers and toast to go with a full-bodied, rich and structured profile on the palate. Despite all of the richness here, this puppy stays nicely focused, has superb purity of fruit and notable tannin that frame the finish. It-s another effort that will benefit from 4 to 5 years of cellaring and have over two decades of longevity.
*2012 Mark Ryan Winery Mourvedre Crazy Mary, WA 92-94pts.
The Mourvedre- dominated 2012 Crazy Mary incorporates a splash of Syrah and comes both from the Ciel du Cheval and Force Majeure vineyards. Possessing serious minerality in its black cherry, black raspberry, pepper and floral-driven aromatics, this medium to full-bodied effort is still firm and tight on the palate, with savory tannin showing on the finish. It will need short-term cellaring and evolve gracefully for 10 to 15 years.
Board Track Racer
- a second label of value driven wines by Mark Ryan
2012 Board Track Racer The Chief
,
WS 92pts.
This ripe and generous red is open-textured and appealing, with broad cherry, currant and exotic spice flavors, remaining airy and refreshing as the powerful finish extends. Cabernet Sauvignon and Merlot. Drink now through 2018. 3,000 cases made
Sleight of Hand Cellars
To say that co-owner and winemaker Trey Busch is a fan of Pearl Jam is an understatement. Pearl Jam holds cult status in Trey's mind and is the inspiration for the winery's branding. "Sleight of Hand", for those less familiar with the band, is a song about a dreamer who feels a compulsion to break free from the norm - almost as if by a magical force. Launched in 2007, Sleight of Hand Cellars has but one focus, and that is to craft exceptional wines from exceptional vineyards here in the state of Washington. The winery has only been in operation for a short time, but in that time, Sleight of Hand Cellars has been named as one of the "The Next Generation" of up and coming wineries in Washington State by Seattle Magazine, as well as one of "The Next Cult Wineries".
Trey Busch, Sleight of Hand Wines
2013 Sleight Of Hand Riesling The Magician, WA 90pts.
Made from 100% Riesling that wasn't harvested until October, the 2013 Riesling Magician is an impressive, outstanding effort that gives up plenty of juicy citrus, lime and hints of lychee, and subtle minerality in its medium-bodied, lively and refreshing personality. Showing just a hint of sweetness on the finish, it will be versatile on the dinner table and drink nicely for 2-3 years.
*2012 Sleight Of Hand Syrah Levitation, WA 94pts.
Kicking off the 2012s and my favorite vintage to date, the 2012 Syrah Levitation is a blockbuster-styled effort that possesses fantastic creme de cassis, blackberry, licorice, graphite and crushed flower-like aromas and flavors. Full bodied, balanced and awesomely textured on the palate, with integrated acidity and building, sweet tannin on the finish, this is the real deal and will dish out loads of pleasure over the coming 7-8 years, possibly longer.
Underground Wine Project
Our two above mentioned, dynamic and successful young winemakers, Trey Busch and Mark McNeilly have collaborated over the years on a few very limited release wines under the name of The Underground Wine Project. A joint collaboration, the winery produced just a 100 cases of its first wine in 2007. The wine flew out of the winery, and they were eager to team up again. Only 700 cases of the 2012 vintage were produced, and they expect them to sell just as quickly. Aptly named, since this wine is a best kept secret of sorts, with no website or info available anywhere and very few cases leave the state!
*2012 Underground Wine Project Idle Hands Syrah
,
NYR
A luscious combination of 92% Syrah and 8% Cabernet Sauvignon coming from the Red Heaven Vineyard on Red Mountain, this thing is loaded with lots of in your face aromas of fresh vanilla, blueberry jam, and hints of anise. The palate is rich and supple, with full body and gripping tannins which will no doubt soften over time, showing blackberries and smoky oak, with hints of black pepper up front. There are combined hints of coconut and medium-dark chocolate which make me think german chocolate cake, and it finishes with ripe black raspberry preserve and perfumed roses.
Januik Winery
While our first two wineries featured young, energetic winemakers, "living legend" is accurate to describe founder, owner, and winemaker Mike Januik. When Mike Januik left Chateau Ste Michelle Winery in 1999 to form his own venture, he was regarded as possibly the most powerful and successful winemaker in the Northwest. He's had over a dozen wines in the Wine Spectator Top 100, and even Robert Parker can be counted as a superfan saying, "Nobody in Washington State delivers more outstanding quality for the dollar than Januik winery." His reputation gets him access to some of the best fruit Washington has to offer and his small production winery offers wines of incredible finesse and balance.
Mike Januik
(Fruit from Weinbau, Klipsun and Ciel du Cheval; contains bits of cabernet sauvignon and cabernet franc): Good deep red. Plum, redcurrant and spices on the expressive nose. Suave and spicy on the palate, with red berry and spice flavors complemented by a sexy cocoa powder note that may be from the Taransaud barrels. The mellow, persistent finish features smooth tannins and late notes of spices and milk chocolate. Another excellent value.
2010 Januik Petit Verdot Ciel du Cheval Vineyard, WA 92pts.
The 2010 Petit Verdot Ciel du Cheval Vineyard is remarkably civilized for the variety. A blend of 96% Petit Verdot and a splash of Cabernet Sauvignon and Cabernet Franc, it delivers lots of spice-coated red and blackberry fruit, cedar cabinet and dried flower-like qualities to go with a medium to full-bodied, supple and beautifully textured palate. While up-front and very drinkable, it has enough back-end tannin and concentration to evolve gracefully for upwards of a decade (or more). Drink now-2020+.
Novelty Hill
A second label for Mike Januik, Novelty Hill winery grew out of a dinner-party conversation between Tom Alberg and Januik four years ago. Alberg and his family had long suspected that their 300 acres of Columbia Valley land would make an excellent vineyard but they had let it remain fallow for more than 30 years. Januik offered to tour the site, found it suitable for grape growing and started planting vines in 2000. The two, along with Alberg's wife, Judi Beck, founded Novelty Hill that year and started making wine using grapes from some of Washington's best growing sites with a goal of making wine with grapes only from his family vineyard, Stillwater Creek. Through Mike's stewardship, the winery and has grown and now shares both the facility and reputation of Januik wines.
2012 Novelty Hill Sauvignon Blanc Stillwater Creek Vineyard, WE 90pts.
Done in a bracing, sappy style, this is a concentrated wine with lush flavors of lemon drop, orange candy and Key lime. It's ripe and juicy, with a suggestion of bees wax in the mouth. Washington wine critic Paul Gregutt recently named Stillwater Creek one of Washington's Top 20 vineyards, in part because of the site's outstanding Sauvignon Blanc. With the goal of growing world-class wine grapes through careful vineyard management and innovative clonal selection, this steep, south-facing estate vineyard on the Royal Slope of the Frenchman Hills is gaining a growing following.
2011 Novelty Hill Cabernet , WS 91pts.
Supple, spicy and appealing, offering a harmonious balance of dark berry and savory beef tartare flavors, lingering with a sense of elegance. Best from 2015 through 2021


JM Cellars
A successful career in technology sales helped fuel winemaker/owner John Bigelow's path from wine enthusiast to vintner. He began by studying winemaking in the mid-1990s at U.C. Davis and by the fall of 1998, he and his wife Peggy had converted the basement of their Seattle home into a winery where they fermented and aged 100 cases of wine for their own enjoyment. Encouraged by the success of their first vintage, John made 350 cases of Tre Fanciulli in 1999. JM Cellars was officially launched. John moved to Walla Walla for the 2000 and established a permanent home for JM Cellars in Woodinville – a seven acre property known as Bramble Bump.
John Bigelow
2010 JM Cellars Tre Fanciulli, WA 92pts.
The 2010 Red Blend Tre checks in as a blend of 80% Cabernet Sauvignon, 10% Merlot and 10% Syrah that spent 22 months in 75% new French oak. A rich, structured effort that will need bottle age to fully come together, it offers up deep, layered aromas and flavors of dusty spice, mineral, saddle leather and both red and black fruits as well as a full-bodied, mouth-filling and concentrated profile in the mouth. Give bottles 3-5 years in the cellar and plan on drinking bottle over the following decade or longer. Drink 2017-2030.
2013 JM Cellars Mourvedre Rose, NYR
Crafted to honor rosé found in the southern regions of France, JM's 2013 Mourvèdre Rosé shows crisp and refreshing fruit flavors. A grape originally planted in the Rhone Valley of France, Mourvèdre , offers distinctive aromas and flavors to create a memorable rosé.