Provence...
Just saying the word brings visions of lazy seaside lunches, enjoying fresh seafood under a dazzlingly blue sky and of course, glasses of cool, delicious salmon colored wine. Known as the birthplace of rosé this area of southern France is one of the world's oldest wine regions and offers many distinct styles of red, white and rosé making it a source of intrigue for wine professionals an enthusiasts around the globe.
Provence is blessed with perfect climate: sunny, dry days, with just enough rainfall, and the famous "Mistral" winds, blowing down from the north, drying out the grapes and protecting them from rot and other diseases while sea breezes temper the hot rays of the sun. The quintessential Mediterranean climate!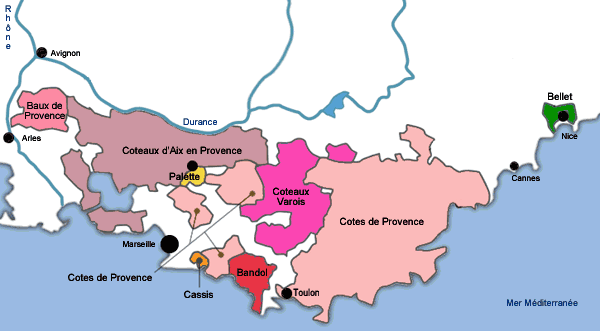 While rosé is king here, reds and whites are hugely popular as well. Provençal reds feature Grenache, Mourvedre, Syrah, Cabernet Sauvignon, Cinsaut, and Carignane. They are usually boldly flavored, solidly built, medium-bodied wines, with moderate to pronounced tannic structure. The reds pair well with the assertively flavored meat and game dishes of the region, especially lamb and venison.
White wines from Provence are made from Ugni Blanc, Rolle, Semillon and the Rhone varieties Grenache Blanc, Marsanne, and Clairette with Viognier and Roussanne making inroads lately as well. They are an excellent match with the seafood-based cuisine of the Mediterranean coast, as well as with the spices and herbs used so liberally in Provençal cuisine.
And then there Provençal rosé, the perfect summer wine with its typical floral- and berry-infused bouquet, savory minerality and a dry, high-acid finish. The typical grapes are Cinsault, Grenache, Mourvèdre, Syrah
and Tibouren with Cabernet making it into a few of the blends. Perfect for quaffing, delicious with seafood, cheese, and spicy, light dishes; for me the quintessential summer wine. I always anxiously await the new vintages and producers in the spring and you will always find many Provence options in our rosé section.
Sommelier Kimi Kiviranna just finished an extensive course on the region and is anxious to share her new found knowledge with you! We'll feature 3 rosés, 2 reds and a hard to find white from the area and we've invited Casey Foote from St. James Cheese to join us with some delicious pate and French formage to pair with the wines. $30 - Reservations and prepayment required. Thursday, May 16, 6:30pm @ Swirl. We have spots for 5 more lucky people! Call 504.304.0635.