Those of you who are frequent readers of my blog know that I talk about little else but Italian wine. Every once in a while I'll throw in something from France, Spain or South America, but I rarely talk about California. And I'll be honest, it's because I get bored quickly with the over extracted "cocktail wines" that dominate the market. But something must have happened with that new moon last week, because I had a week of tasting some pretty amazing wines from the big C that made a huge impression on me.....
It all started with our friends Monica and Neil from Neat Wines showing up at the house last week to show us their new wheels and we figured we might as well taste some wine while they were there. Neil pulls this delicious blend of two of my favorite French varieties, Carignan and Grenache, with a little Syrah and Petit Sirah thrown in. The
Mark Herold
Winery's "Flux" is all that is good about Southern France (fans of the Tribouley wines would love this) with a California twist. Deep, almost roasted black fruits, tobacco, chocolate; dense and delicious, this was a real treat! Look for it next week...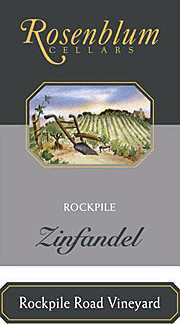 Then there was Jason's visit with the new vintage of the
Rosenblum
Rockpile Zin. For those of you who like a more rich and savory style zin, this is a stunner! Beautiful black raspberries and cherry fruit, with notes of smoke and black pepper this is a wine you have to try! To make that easy for you, we decided to do a complete Rosenblum tasting in November featuring our favorites in the Rosenblum lineup that will include the Rockpile, Petit Sirah, red and white blends and more! So mark your calendar for Tuesday November 9th, more details later!
Next up was Randall Petit from
Dry Creek Vineyards
with a great lineup of reds and whites at amazing price points. Again, I was very impressed from start to finish with these wines, so we decided Randall would come back on a Friday so you could check them out as well. He'll be here November 19th....
Now probably the biggest surprise was a presentation of wines from Amador County. And just where is that you ask? Located just east of Napa in the Sierra Foothills this little known area has tons of small family owned wineries that you usually don't see outside of California. While Zinfandel put the area on the map, I tasted some amazing Sangiovese, Petit Sirah and blends that really made me want to see more about what this area has to offer. I ordered 3 different wines on the spot and will be tasting more next week that we will feature in a tasting we scheduled on Tuesday November 30th and we'll probably throw a Friday in to introduce you to a few more as well! In the shop now are the
Runquist
1448 (great blend of zin, petit sirah and syrah) that is a killer bargain at $16.50, the Runquist Petit Sirah, around $30 and a cool, easy drinking red blend of zin and merlot from Drytown Cellars that is a steal at $12.99. Look for the tasting dates in November, you gotta try these wines!