Our "Go Native" Tastings have always been a hit in the shop and we're taking this one to another level as we pair these obscure grapes with cheeses from their same regions. And what better portfolio to raid for this tasting than that of Matt Lirette, our local go to guy for European wacky varietals. On Tuesday, August 10, Greg Knapps, former sommelier of Stella!, who now works with Matt, will present 5 wines from Italy, Spain and France focusing on indigenous and sometimes little known varieties and the eco-systems they thrive in. And Ron is working with our friends over at St. James Cheese to find new cheeses to pair with from the same regions for our "Go Native" cheese plate. The tasting is $12 and reservations and prepayment are required and please let us know if you'd like to reserve a cheese plate for $12 as well. Please call 504.304.0635 for reservations.
Here's a preview of what we'll be serving:
France's Loire Valley
The Cheese:
Selle Sur Cher
- Like many goat cheeses from the Loire Valley, the outside of Selle-sur-Cher is coated in edible ash. The ash is flavorless but adds a stunning visual contrast against the stark white goat cheese. Sweet, nutty, and peppery with mildly tangy acidity. The texture varies depending on ripeness, but it is typically dense and chewy.
The Wine:
2008 Jacky Preys Cuvee Fie Gris
- Before there was Sauvignon Blanc, the storytellers and wine historians say, there was Fie Gris. The believed "mother" of the white grape that produces some of the most lively wines in the world, Preys Fie Gris is made from ancient pre-phylloxera vines, some more than 100 years old. It delivers all the delightful and racy mineral energy one finds in the best Sancerre and Pouilly Fume, but with a flavorful complexity that even the top wines can only hope to match.
From Northern Spain
The Cheese:
Galician Tetilla cheese is made from milk from herds of cows in the area, basically Friesians, Alpine Browns and Rubia Gallega. Its flavour is creamy and slightly salty, its texture is fine and its colour yellowish ivory, although undoubtedly its greatest characteristic is the peculiar breast-like shape that gives it its name (tetilla means small breast).
The Wine:
2008 Descendientes de Jose Palacios Petalos del Bierzo, WA 90 pts.
From steep hillside vineyards ranging in age from 60-100 years planted with Mencia, the indigenous grape of cool-climate Bierzo. The vineyards are biodynamically farmed and the wines are bottled without fining or filtration. Beautiful nose of lavender, incense, spice box, black cherry, and cranberry, with nice weight on the palate, intensity, and layered fruit.
Southern Italy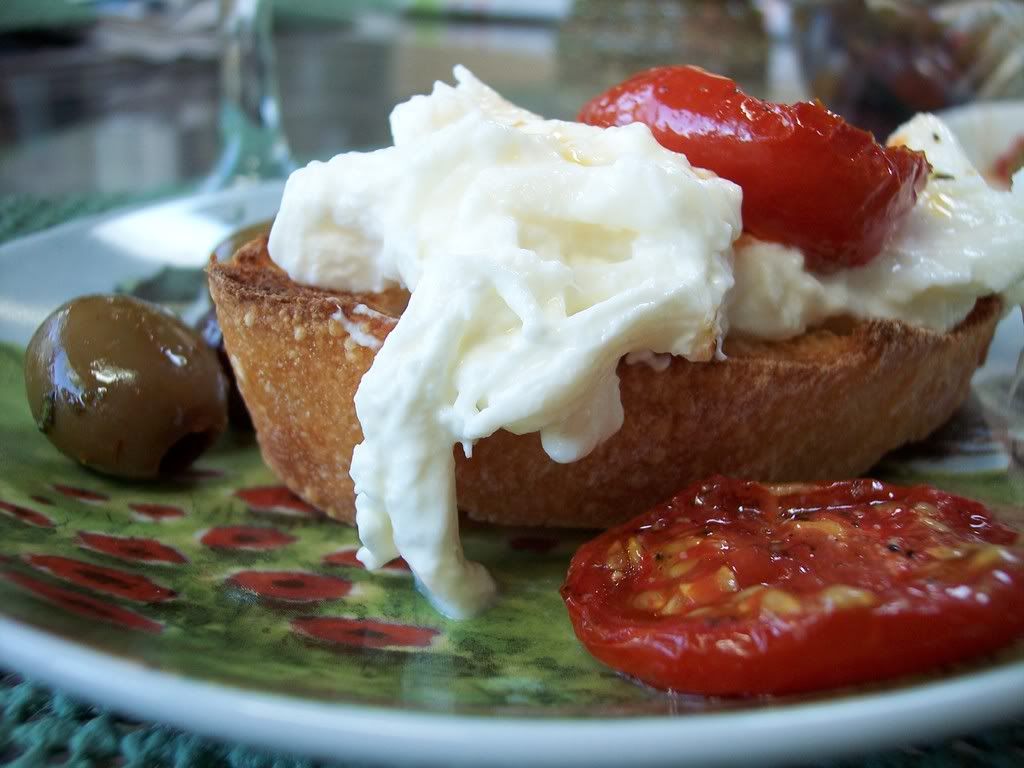 The Cheese:
Burrata is one of the most sought after cheeses in the world today and restaurants and consumers have gone burrata crazy! From the Puglia region of Italy, the heel of the boot, came this incredibly deliciously creamy cheese created in the 1920s in the town of Andria. For the uninitiated, the cheese looks like a ball of fresh mozzarella with a tiny topknot. But cut into it and the center, a tangy core of cream and stracciatella ("little rags") of mozzarella curds, oozes onto the plate. Sweet, creamy, lusciously and delicately textured it is irresistible.
The Wine:
2009 Torre Quarto Rosato
-
This juicy rosato from Puglia combines the great spice of Primitivo with the fruit and flesh of Uva di Troia. Weighty with good structure with succulent red berries cherries and roses with a touch of pepper on the finish.
Northern Italy
The Cheese:
Fontina Val d'Aosta
- Reflecting its origins in the high, Alpine slopes, Fontina is actually an Italian cousin to the French Gruyère. Raw milk is sourced from cows that graze 6,500 feet up on foothill pastures to make this rustic cheese with grassy, sometime truffly aromas. The dense, semi-soft paste has small openings, and is made from pressed, lightly cooked curds. After several months of brushing, washing, and oiling in the caves, a burnished, crusty rind protects a pale golden interior. The uniquely rich flavor is subtly fruity, earthy, mushroomy, and woody, and pairs great with roast meats and truffles.
The Wine:
2007 Mayr-Nusser "Elda" Schiava
- A delicate and summery red wine from a tiny producers whose estate is virtually inside the beautiful city of Bolzano. Smoky, red berries with a hint of fig and citrus notes, a deliciously interesting made from 100% Schiava.
Abruzzo, Italy
The Cheese:
Ok, this was a tough one as we could not find a cheese from Abruzzo to pair with this so we decided to go with the producer's recommendation of a blue cheese. We went a little further north in Italy for the Toma Blu, a mountain cheese made from pasteurized cow's milk. This is a blue-veined toma that has been seasoned for two months on wooden planks, followed by an extended aging period in oak barriques filled with aromatic herbs and hay. This cheese has bold earthy and herbal flavors combined with a pleasant spiciness. The finish is long and pleasant,with woodsy notes.
The Wine:
2007 Ciavolich PECORINO Colline Pescaresi "Aries"
- Not the cheese but rather the wine! This Pecorino is certainly a wine experience. This small production white from Abruzzo is rich and full bodied with a deep golden yellow color. Soft and structured with elegant floral notes, hazelnuts and peach. The texture is velvety with a honey flavor; full and harmonious.The Ciavolich family has been cultivating the land between Chieti and Pescara in Abruzzo since 1853.