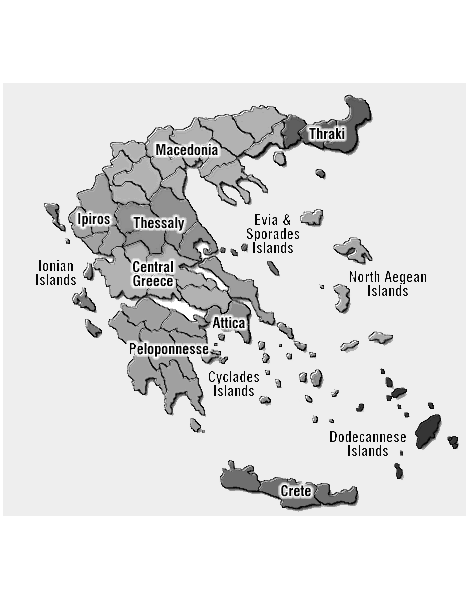 Discovering new and exciting wines is probably my favorite thing about being in this business. You never know when or how it will happen, sometimes it is through research and travel, sometimes it's because your sales reps know you like geeky, obscure wines, and sometimes it's because your customers are asking for something specific that you don't have. Such is the case a few weeks ago when our friend/customer Mary was looking for Greek wines for an upcoming wine and food pairing dinner she is hosting at her home.
Well I don't know if any of you have attempted to located any Greek wines worth drinking in this market, but if you have, you know the selection has been quite slim. Luckily though, as I have found, this has nothing to do with the actual quality of wines produced there, but more associated with a lack of interest on the part of retailers and restaurants as well as as a lot of misinformation on what is happening in the world of Greek wines. Still tainted with an unfortunate association with retsina, an ancient Greek wine made with a base of white or rosé wine flavored with pine resin, has left Greek producers seeking ways to stay connected to their roots, but still produce wines with international appeal. And while retsina is an important part of the local cultural, winemakers have carved a niche for themselves by using indiginous varieties. While many are successfully using international grapes as well, it is the local varieties that have their own personalities and offer new flavors and a different twist for adventurous wine drinkers. Grapes like Xinomavro ("skee"-NO-mah-vro), Agiorgitiko (ay-yor-YEE-tee-ko), both red; Assyrtiko (uh-SEER-ti-ko), Moschofilero (Mos-ko-FEEL-er-o)(both white); and Mavrodaphne (usually used for Port-like dessert wines) while hard to pronounce can be pretty exciting to experience.
So let's get back to my story...I'm looking for high quality Greek wines for Mary to use for her dinner. I remember that Nick Selby and our friends from Uncorked have just picked up a new Greek portfolio. Knowing that these guys don't fool around with mediocre wine, I was pretty excited to try them. Mary had sent me all of her recipes, so I new what flavor profiles we were hunting for. Originally, not knowing what kind of quality we were talking about in the wines, I figured I would just get the bottles Mary needed for the dinner and I might, or might not, get any for the store. Well, Nick was right on with these wines and all four that will be featured in Mary's dinner will be on the shelves by Tuesday. I liked them so much that we scheduled a Tuesday night tasting with Nick for August 24 that will feature 5-6 of our favorites from the group.
Here's a little run down on the four wines we've picked up and keep on the look out for more and the tasting coming up next month!
Domaine Skouras
, Peloponnese Greece, Wine & Spirits Magazine Winery of the Year, 2009: The Peloponnese, rich in ancient ruins from its glorious past, has been cultivating grapes for many centuries. Indigenous grape varieties in Nemea, Argolida, Arcadia and Mantinia include Roditis and Moscofilero (white varieties) and Saint George (aka Aghiorghitiko, red variety), as well as international varieties of Chardonnay, Viognier, Cabernet Sauvignon, Cabernet Franc and Merlot, are cultivated, displaying the terroir of the region. Skouras Winery sources grapes from its own vineyards and from dedicated grape-growers in the area.
Domaine Skouras White:

Roditis 70% , Moscofilero 30%. Fermented in stainless steel vats with hort skin contact, no malolactic fermentation and short aging over fine lees. Fresh, crisp acidity, lively, aromatics. Very succulent, a summer charmer. $11.50
Domaine Skouras Red:

Aghiorghitiko 90%, Cabernet Sauvignon 10%. Fermented in stainless steel vats with short maceration, full malolactic fermentation and short aging over fine lees. Ripe and fresh, with medium body and soft tannins. A good easy drinking summertime red. $11.50
Alpha Estates, Amyndeon, Greece:
Robert Parker's Wine Advocate says:
" … One fascinating development is the emergence of great, little Xinomavro boutiques, wineries like Alpha Estate… These are folks who are taming the rustic tendencies of the grape. Poised to become one of Greece's best wineries..."
Alpha Estates, Alpha:

Syrah 60%, Xinomavro 20%, Merlot 20%, 11 months French oak casks with a medium – light toast. No treatment or filtration before bottling, and 9 months in bottles. Powerful, pungent aromas of sweet cherry, candied plum and toasty vanillin oak. Full bodied and deep in dark fruit flavors, with a peppery and strong oak spicy accents background. This is stellar for the price, $19.99
Domaine Sigalas, Santorini, Greece:
Robert Parker's Wine Advocate says:
" …Santorini producers like Sigalas and Gai'a work with their pre-phylloxera vineyards to produce crisp, steely and interesting whites. Think Chablis crossed with Trocken Riesling."
Located on the plain of Oia, in Santorini, and more specifically in Baxedes area, Assyrtiko dominates with Aidani, Athiri, Mandilaria and Mavrotragano having their place here as well. These are quality wines which receive both international and local acclaim.
Domaine Sigalas Asirtiko / Athiri:

All stainless steel fermentation keeps it bright, with a nose of ripe citrus fruit. With refreshing acidity, steely minerality and the subtle saline notes of an island white. Delicious with seafood. $18.99
So there you have it! If you'd like to find out more about these wines, grape varieties and history of Greek wine, you can go to the importers site,
Diamond Wine Importers.
All of the above photos are from their website. They also have a great map of the wine regions here,
wine map.

And if you are interested in trying these wines, come to our tasting on Tuesday, August 24. Keep an eye on the events page for more details.