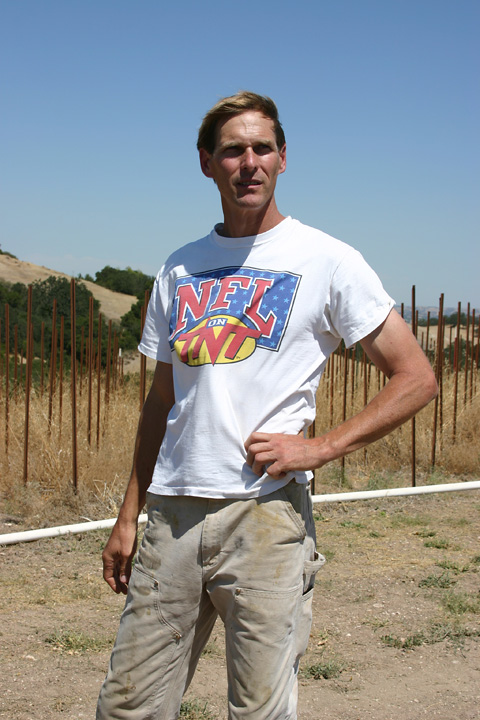 What do you get when you combine an ex-NFL safety with a degree in genetics and a passion for farming? Terry
Hoage
, the two time All-American from Georgia, actually spent a year with the Saints after being drafted by Bum Phillips, but was waived the next year by new coach Jim Mora. He then went on to a very successful 5 years with the
Philadelphia
Eagles, followed by another 6 years playing with Washington Redskins, Houston
Oilers
, San Francisco 49
ers
and Arizona Cardinals. Terry retired from football in 1996 the rest of the story goes like this:
Terry
Hoage's
transformation from highly regarded NFL safety to highly regarded vintner began like a bad joke: "A guy walks into a bar. . . ." In 2000 the guy,
Hoage
, moved with his wife, Jennifer, and two children from Phoenix (his 13-year career with six teams had ended with the Cardinals in 1996), to California, eventually landing in
Paso
Robles, a burgeoning wine center two hours north of Santa Barbara.
Hoage
stopped by a local watering hole and hit it off with a group of
thirtysomethings
who happened to be oenophiles--"the wine geniuses of
Paso
Robles," he calls them. Under the guidance of his new friends,
Hoage
bought a 26-acre plot, where one of the geniuses, Justin Smith, helped him plant vines and provided him with the facilities and equipment to make his wine. Within a few years
Hoage
had his own 3,000-square-foot winery; his first vintage, in 2005, produced 100 barrels.
Hoage
does everything from marketing his product and leading tours (with Jennifer's help) to fixing the tractor. He produces roughly 2,000 cases a year of wines that bear sly names like The Hedge
Syrah
, referring both
to a pruning technique and to a fabled feature of the stadium at Georgia, where
Hoage
was an All-America both on the field and in the classroom. (He graduated with a degree in genetics and a 3.8 GPA.) Far from being an aspiring
Mondavi
,
Hoage
has capped his production and says he's happy to remain a boutique winemaker. For him the business is less a moneymaking venture than a means to challenge himself. "I tend to get bored pretty easily," he says. "But here I get to be a scientist, an engineer, a marketer--I even taught myself to weld. I can be killing gophers in the afternoon and leading a wine tasting at night!" (article from
sports illustrated
)
One of the true "Rhone Rangers" of California, Terry's small production, highly rated wines made exclusively from Rhone varietals,
Syrah
,
Grenache
,
Mouvedre
,
Counoise
,
Cinsault
,
Grenache
Blanc
and
Roussane
are
extraordinare
examples of gorgeous, rich, lush wines that embody the spirit of the Rhone, in a ripe, California style. The wines blew us away when we tasted them, and with Parker scores rarely under 90 points, I think you'll be very impressed as well! In his August 2009 edition of the Wine Advocate, Parker says of the 2006 Block Five, "This is the kind of wine the Central Coast should be producing more, an intriguing blend that is both
hedonistically
and intellectually pleasing".
We are excited to have Terry and his wife Jennifer in the shop on Tuesday, February 23 at 6:30pm for a tasting of his wines. Meet the
Hoage's
, taste some great wine, get your bottles signed and have a little fun with us. Here's what we'll be tasting:
"The Gap"
Cuvee
Blanc
2008 -Fragrant jasmine and marmalade mingle with dried apricot and perfumed powder, a medium bodied white blend of
Grenache
Blanc
and
Roussanne
has a juicy intensity and a lingering floral honeysuckle finish with terrific crisp acidity. 60%
Grenache
Blanc
and 40%
Roussanne
. 100 cases produced
"
Bam
Bam
" Estate Rose 2008 - Aromas of juicy ripe strawberry and cherry blossom entice the nose of this lovely pink rose. Showing nice weight on the palette, and displaying excellent fruitiness and great acidity. Excellent for enjoying on a hot evening. 80%
Syrah
20%
Grenache
. 110 cases produced.
"The Hedge"
Syrah
2006 - (RP 89,
WS
92) Pure ripe chunky fruit with boysenberry, ripe black cherry,and wild blackberry. Layered with
Vosges
chocolate and dried black
Þg
, and nuances of sweet tobacco, loamy earth,and perfumed purple violets. Finishes with pure fruit and spicy licorice. Firm tannins mellow with airing. Long and lingering finish. 100%
Syrah
. 405 cases produced.
"5 Blocks"
Cuvee
2006 – (RP 90,
WS
90) Uncommon depth and concentration of huge blackberry, huckleberry and
cassis
with subtle notes of smoke and creamy stewed caramelized morel mushroom. This lovely blend is fleshy and concentrated with long spicy pepper and anise finish. Firm ripe tannins will further smooth with
cellaring
. 57%
Syrah
, 29%
Grenache
, 7%
Mourvedre
and 7%
Cinsault
. 365 cases produced
"The 46"
Grenache
-
Syrah
2006- (RP 90,
WS
92) Has amazing fruit purity and range of flavors, from freshly picked blackberries and ripe plums, kirsch, mineral, spice and earthy truffle. Graceful
mouthfeel
with velvety tannins on the intense lingering finish that has a touch of bittersweet chocolate and just the right amount of acidity to carry the long finish . 50%
Grenache
50%
Syrah
. 485 cases produced.
"The Pick"
Cuvee
2006 - (RP 90,
WS
89) Bright fruit of wild blackberry with cranberry notes that are vivid and youthful, yet intense and focused, herb
de
Provence, white peppery spice, earthy mushroom
Þll
the palette. Finishes long and persistent with forest mushrooms, spice and smoky toast. 54%
Grenache
, 23%
Syrah
, 15%
Mourvedre
and 8%
Counoise
. 310 cases produced.