Our friend Liz has been patiently (not!) waiting for me to taste the new vintage of one of her favorite wines. A very frequent buyer and fervent fan of the 2007 BenMarco Malbec, she wasn't sure if the 2008 would be worthy of her adoration. Knowing the history, producer and quality of past vintages, I was confident it would, but nonetheless Liz wanted me to taste it before she purchased her case. So earlier on New Year's Eve day, before the bubbly feeding frenzy began, Lucie Fitch came in with a sample of the BenMarco for us to taste and share with customers. The nose alone told me this was going to be something special, and Liz will be delighted to know that the 2008 is a knockout!
The BenMarco wines are crafted by one of the most talented winemakers in Argentina, Susana Balbo, and her wo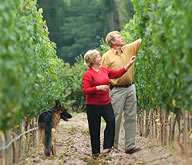 rld famous viticulturist husband, Pedro Marchevsky. The winery is a family affair as Pedro's daughter-in-law is an artist and designs all the labels while Susana's son is currently a student at the University of California at Davis. One of the wines is called "Crios," which means offspring and the label depicts two small hands in a big one symbolizing Susana and her two (now grown) children.
Beautiful, deep purple color with perfumed aromas of ripe red fruits and roasted coffee beans. It is lush, full-bodied and fills the palate with loads of chewy, currant jam flavors, bright acidity, and a touch of grip on the almost savory finish. This wine really unfolds with some air so try not to slurp it down in a rush, and it shows why the Argentine people are in love with Malbec. Pedro blended in some Bonarda for greater complexity and to achieve better balance. Pairs well with a wide range of foods including beef, sausages, spiced or grilled pork, veal, medium-strong cheeses, and meat-based pasta sauces.
We liked it so much that I talked Lucie into doing our Friday tasting this week so that all of you could taste it too, along with some of Susana Balbo's other wines from Argentina. Maybe I can convince Chef Dan Esses that he should pair it with a chimichurri sauce on his tapas menu that night....
Robert Parker's Wine Advocate
The 2008 Malbec, which contains 10% Bonarda, spent 11 months in 50% new French oak and 50% first use American oak. Purple-colored, it reveals an expressive nose of wood smoke, cinnamon, incense, and black cherry. Round, ripe, medium-bodied, and savory, this layered effort has a lengthy, fruit-filled finish. Enjoy it over the next 5 years.
Score: 90.
Price: $21