It is always a pleasure to have Richard Sutton of
St. James Cheese
in the house to guide us through the fascinating world of artisan cheese production. This month we are tackling Spain, where over the centuries, the rugged mountains and lush valleys have fostered many unique cultures such as the Celtic people in
Galicia
, the Moors in sunny
Andalucía
, and the Basques, whose origins are lost in history. As a result of these many distinct regions and cultures, Spain produces an amazing array of over 100 artisan cheeses from the milk of cows, sheep, and goats.
Join us Tuesday, September 1st at 6:30pm, as Richard presents a selection of these distinct hand-fashioned cheeses that are the pride of Spain paired with some of our favorite regional Spanish wines. 6 wines, 6 cheeses, lots of fun, $15. Reservations and prepayment are required for this event. Please call 504.304.0635.
Here's a look at what we'll be tasting:
Ros
- Absolutely delicious, though somewhat obscure, Catalan sheep's milk
cheese hand molded in the mountains outside of Barcelona. If you like aged
Manchego
, you're going to go nuts over Ros! The cheese is extra aged, sporting a granular texture and a caramel, nutty flavor with notes of brown sugar and a citrus tang finish. You have to taste it to believe it!
Miticana
- A soft ripened goat cheese log from Murcia, Spain, similar to French
Bucheron
. Murcia is famous for its quality goat's milk and this farm produces
outstanding
cheeses. This is the first soft ripened sheep log in Spain, maybe ever. The cheese is aged 21 days and is buttery and delicious. As it ages, the flavor intensifies. We'll be pairing this with our wine of the moment, the
Shaya
Verdejo
.
Valdeón
- A rich and creamy, intensely-flavored cow and goat's milk blue chee
se, s
tron
ger
than Stilton but less intense than
Cabrales
. The
Valdeón
wheels are wrapped in Sycamore leaves which contribute to their distinctive appearance and complex flavor.
Valdeón
was named best blue cheese in a 2003 national competition in Spain.
Ibores
- The rustic perfection of this Spanish classic is unrivaled among its fellow goat
tommes
. The flavors of Spain's rough and wild west are all here in a flinty, slightly
goaty
cheese. The flavor is round and
olivey
, and goes with a wide variety of wines,
charcuterie
, and other cheese accompaniments.
La Serena
- La Serena is a sheep's milk cheese hailing from the
Extremadura
region of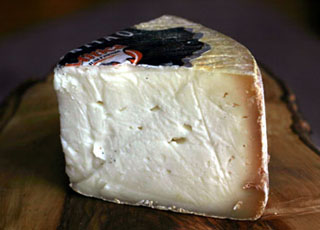 Spain and has been name-protected with DO status since 1992. Serena is rich and creamy and combines a fruity sharpness with an earthy, pungent flavor; as the cheese ages, its rind becomes leathery and the interior ripens to a soft, smooth spreadable paste. Like many Spanish and Portuguese cheeses, Serena is a terrific party cheese and can be served by the wheel with a hole cut in the top and crusty peasant bread for dipping. Pair this cheese with
Albarino
or
Tempranillo
.
Mahon
- One of the most under-sung cheeses in the world. The simple cow's milk cheese may not be much to rave about during the first few months of its life, but after a year spent in the caves of the island's
ripener
/gatherers, the cheese blossoms into a full, fruity, sharp marvel.