My first introduction to the wines of Caggiano was in the fabulous "
Ristorante Il Ritrovo
" in the little hilltop town of Montepertuso overlooking Positano and the Bay of Salerno. The restaurant was recommended by Chiara, the owner of our
villa
, as well as the Slow Food Guide to places to eat in Italy. Chiara's brother Francesco oversees the wine program at the restaurant and during our recent visit, chose the wines for our dinner. My only direction was for him to pick his personal local favorites to pair with our multi-course meal. All of his selections were fantastic, but the wine that really stood our for me was the 2010 Caggiano Bechar Fiano di Avellino. All I could think of was how I was going to get this wine in the store so that I could enjoy it on a regular basis and of course share it with our customers! I needed to find out more about this producer...
Well when we got home I was very excited to find out that the
Caggiano
wines were part of the Marco di Grazia portfolio, and that the other huge proponent of southern Italian wines in the city, Chef Josh Smith at a Mano, had also discovered the Caggiano wines on his recent trip to the region. But Josh was one step ahead of me and had already contacted our friends at Uncorked about bringing in some of the wines. So I was ecstatic to find out that the 2009 Caggiano Devon Greco di Tufo and the 2007 Caggiano Taurausi were already in the city! And when I got to taste them last week while we were selecting wines for our upcoming dinner at Maximo's, I was totally blown away by the quality of these wines. They are bringing in the Bechar Fiano for me next week, as well as more of the Devon Greco and the Taurasi is already in the shop. These are "must try" wines and I'll probably do a little discount if you purchase all three once they come in.
There very few producers who capture my attention to this level, where each wine is so intriguing, complex and delicious that you can't wait to taste what is coming next. The quality for the price in each of these three wines is outstanding, and they made me want to learn more about who Antonio Caggiano is and how he has come to make such great wine.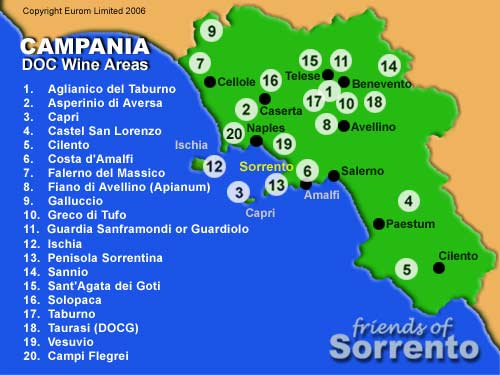 But just a little regional background first. Caggiano is in Campagnia, my latest wine region obsession. Located around the famous city of Napoli, to me this area is nothing short of paradise. Incredible mountain vistas provide the backdrop for
stunning coastal town
s with the clearest aqua blue ocean waters I've ever seen, while Mount Vesuvio dominates the landscape and delivers the perfect soil for grape growing. Land of bufalo mozzarella, San Marzano tomatoes and a wine history that dates back to the ancient Greeks, it is a food and wine lovers dream come true. Campagnia is known for its aromatic white wines like Falanghina, Fiano, Greco di Tufo, Coda de Volpe, but it the red wines made from Aglianco that really put the region on the map.
Architect, photographer, and grape grower, Antonio Caggiano's estate is located in the village of Irpina in Taurasi, the birthplace of the Aglianico vine. At its best, Aglianico yields wonderfully complete, structured wines capable of extended cellaring. The Taurasi region is often referred to as the Barolo of the South because its Aglianico wines are stunning and built for long aging. Like many of the other great areas for winemaking, Taurasi is comprised of high altitude vineyards of volcanic soil. Hot days and cool nights allow for slow, long, growing seasons providing grapes with the perfect ripeness balanced by bright and refreshing acidity.
Caggiano is famous for his reds, as Robert Parker says "Antonio Caggiano makes some of the most delicious and accessible Aglianicos in Campania, making his wines a great choice for readers who want to explore one of Italy's most fascinating grapes." He makes three different Agliancos and the flagship Macchia dei Goti Taurasi, is currently available. Stephen Tanzer says that "the Macchia dei Goti Taurasi has to be considered one of the benchmarks for this DOCG, and for the aglianico variety as well." I tasted the 2007 vintage of this wine a few weeks ago over at Uncorked with a group of other wine nuts and we all fell head over heels for it. Ripe dark fruits, exotic spices, tobacco and mocha with smoky minerality, every time I put my nose in the glass something different emerged. I can't wait to cook a meal around this wine...
But my first introduction to Caggiano was with his white wines, which I think are some of the best I've tasted from the region. Rich, extremely aromatic and complex, these wines make your mouth water for the fresh seafood of Campagnia. His Fiano di Avellino is named Bechar after a locality in the Sahara desert where Antonio Caggiano carried out a photo essay. Although it is all stainless steel fermentation, it has a richness on the palate that I've not really tasted in other Fianos, luscious and full-bodied apricot and honeyed wine but still dry and focused. And then there is the Greco di Tufo named Devon after a photo essay he did in an area of the Arctic Circle. Plush tropical fruit, peach and almond blossom but dry, fresh, balanced, it still has all of the acidity and minerality you want from a Greco. This wine will be in lineup for our upcoming dinner at Maximo's.
Caggiano uses organic and sustainable viticultural practices and the estate takes part in a program sponsored by the Campania Region for integrated insect and disease control. The bureau provides subsidies to estates practicing organic agriculture and using techniques that reduce their environmental impact. Strict inspections ensure progress and results. Sulfur and copper-based products are used in accordance with organic guidelines to combat mold and pests. The soil is analysed regularly and, when needed, only organic fertilizers are used.
So as you can tell, I'm a little more than excited by these wines and am anxiously awaiting the arrival of the whites. The Taurasi is in stock now and I should have the others in a week or so. And while I do find these wines spectacular, I would be remiss if I didn't mention my other favorite producers in the region. Alois, San Gregorio, Mastroberardino, Taburno and Benito Ferrari all make exceptional Campagnia wines and you know if you pick up any bottle produced by them at any price level you will be assured a high quality wine.
Here are a few of the reviews I found on the Caggiano wines we currently have access to:
2007 Cantine Antonio Caggiano Taurasi Vigna Macchia dei Goti (RP 92pts)-
"The 2007 Taurasi Vigna Macchia dei Goti is a huge, exotic wine that bursts onto the palate with masses of super-ripe dark fruit, incense and tobacco. I am not certain how this unusually supple, opulent Taurasi will age, but it will deliver immense pleasure along the way. Anticipated maturity: 2015-2025. Antonio Caggiano makes gorgeous wines that show the more refined side of Campania's indigenous grapes."
2010 Cantine Antonio Caggiano Fiano di Avellino Bechar (RP 91pts)
- "The 2010 Fiano di Avellino Bechar is fabulous. The aromatics alone are breathtaking. Smoke, flowers and ash are some of the notes that emerge from this rich, textured white. The aromas and flavors meld together beautifully in this generous, sumptuous yet beautifully balanced Fiano di Avellino. Anticipated
maturity: 2011-2015."
2008 Cantine Antonio Caggiano Greco di Tufo Devon
(WS 92pts)
-
"Dried pineapple and ash aromas follow through to a full body, delivering lots of mineral character. This has a citrus peel and apricot aftertaste, with layers of fruit. Drink now. 1,500 cases made."